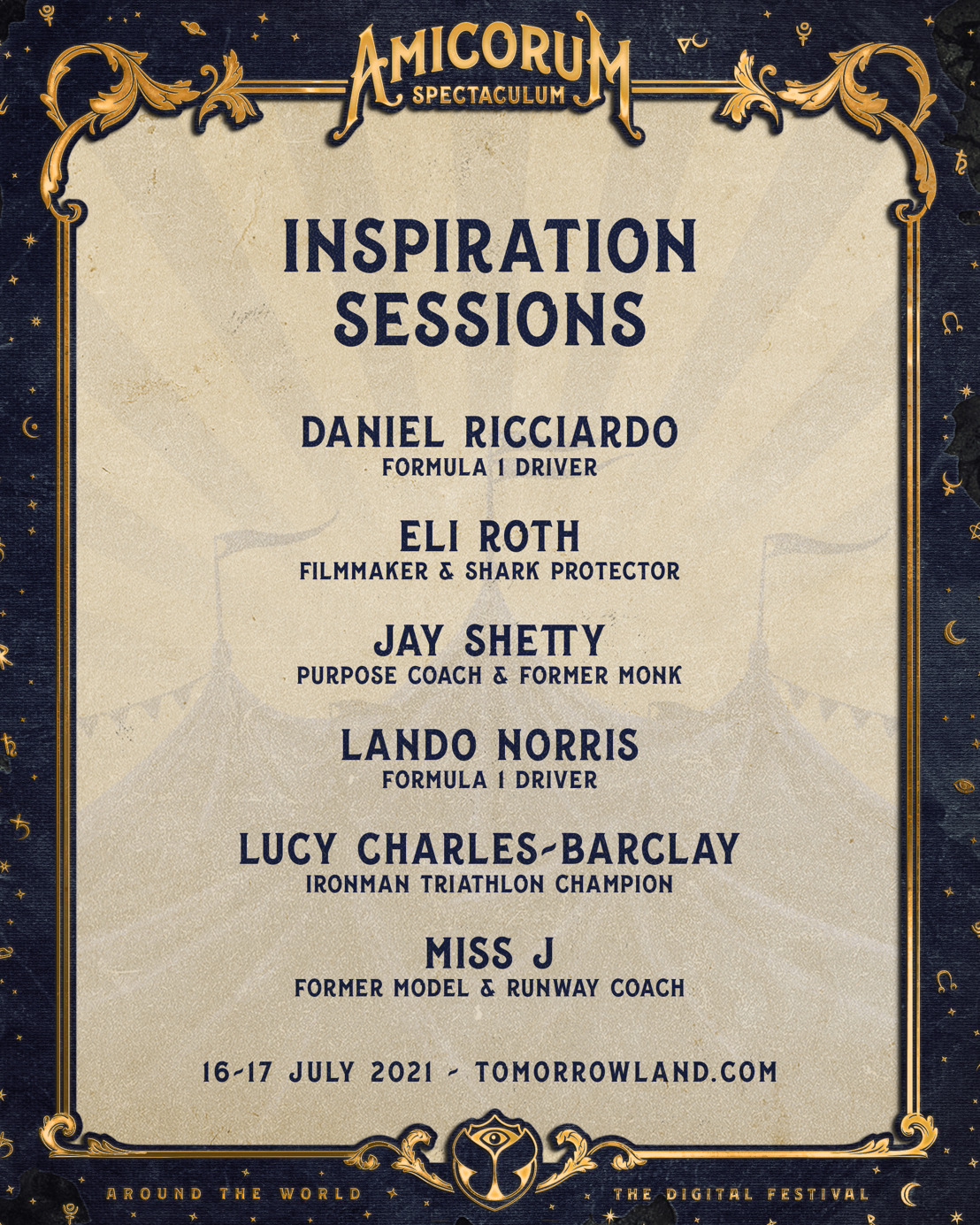 Tomorrowland – Around the World welcomes Daniel Ricciardo, Eli Roth, Jay Shetty, Lando Norris, Lucy Charles-Barclay and Miss J
Hosting inspirational talks in addition to all the unique musical content during the digital festival
Friday, 9 July 2021 - As with the other editions of Tomorrowland, the festival always wants to offer its guests much more than music and spectacular shows. During this year's digital edition of Around the World, Tomorrowland will host a number of entertaining Inspiration Sessions – welcoming a couple of internationally renowned thought leaders from different fields & backgrounds to offer people a substantial extra dose of positivity and inspiration, in addition to all the amazing musical content. Six unique role models and experts – Daniel Ricciardo, Eli Roth, Jay Shetty, Lando Norris, Lucy Charles-Barclay and Miss J – will share energizing messages that uphold Tomorrowland's core values 'Live Today, Love Tomorrow, Unite Forever'. They will each share their stories with the world about passion, strength, creativity, solidarity, sustainability and more. All Inspiration Sessions will be available to the festival visitors during the entire festival weekend.
Tomorrowland – Around the World: Inspiration Sessions
Daniel Ricciardo & Lando Norris, Australian Formula 1 driver & British Formula 1 driver: The Power of Unity
Eli Roth, American award-winning filmmaker and shark protector: Why Sharks Matter And How We Can Protect Them
Jay Shetty, award-winning author, podcaster & purpose coach: On Embracing A Mindful Life
Lucy Charles-Barclay, English professional triathlete specializing in the Ironman: The Power of Perseverance
Miss J, former model, runway coach, author & television personality: Be Yourself
Daniel Ricciardo
​Daniel Ricciardo is an Australian racing driver who is currently competing in Formula 1. His motorsport journey began, like so many, glued to a television. In his case, this was often a late-night indulgence, watching Formula 1, NASCAR and all forms of motorsport at home in Perth, Western Australia. The Australian combines all-out speed with impressive race craft and has proven to be a regular podium-finisher and race-winner, capable of consistently finishing at the business of the championship table.
Eli Roth
​Eli Roth is an American award-winning filmmaker and shark protector, most closely associated with the horror genre. Roth most recently wrapped production on the highly anticipated 'Borderlands', starring Cate Blanchett, Kevin Hart, Jack Black and Jamie Lee Curtis, which will be released by Lionsgate in 2022. Roth made his directorial debut in 2002 with the hugely successful film 'Cabin Fever'; his follow up titles, which include 'Hostel', 'Hostel Part II', 'Knock Knock' and 'Death Wish', have earned him critical praise and a reputation as a true innovator in the horror space. Roth successfully pivoted to family fare, hosting Discovery Channel's popular 'Shark Week'. 'FIN' is Roth's first documentary, a passion project he has spent the past five years making, after becoming aware of the plight during his time hosting 'Shark Week'. Roth works with several animal charity organizations, including PETA, where he has been an outspoken public figure against animal abuse.
Jay Shetty
​Jay Shetty is a #1 New York Times best-selling author, award-winning storyteller, podcast host and former monk, on a mission to make wisdom go viral. In 2019, he was AdWeek's Young Influentials cover star, described as "an emanation of spiritual force." In 2017, Forbes named him to their 30 Under 30 List for his game-changing impact in media. His viral videos have been viewed more than 8 billion times and he is followed by over 40 million people across social media. In 2019, Jay created On Purpose, now the world's #1 Health and Wellness podcast in the world. Recent guests include Will Smith, Oprah, Jennifer Lopez, Alicia Keys, and Big Sean.
Lando Norris
​Lando Norris is a British racing driver who is currently competing in Formula 1. Hailing from Somerset, the 21-year-old Lando Norris is the youngest ever British Formula 1 driver. A stellar rise through the karting ranks followed by an outstanding first couple of seasons racing in junior single-seater championships have placed Lando Norris firmly on the motorsport map.
Lucy Charles-Barclay
​Lucy Charles-Barclay is an English professional triathlete specializing in the Ironman and 70.3 distances. After a 10-year competitive swimming career that included an Olympic Trials final, Great Britain's Lucy Charles-Barclay made the switch to Ironman triathlons in 2014 and is now a regular contender for top titles. After turning pro in 2016, again it took her just one year to achieve her first professional victory. She won the 2017 edition of Ironman Lanzarote by demolishing the field in a course record time. Now the British phenomenon has achieved several podium finishes and it seems just a matter of time before she claims her first full Ironman World Championship title.
Miss J
​As a former model, runway coach, author and television personality, J. Alexander, affectionately known as Miss J, is a cultural pioneer. Having carved out his own lane to succeed in fashion, entertainment and business, Miss J. has become a glamorous fixture in model artistry, an inspiration to the LGBTQ community, and an innovative icon to fans worldwide. For more than twenty years, J.'s expertise has been instrumental in backstage productions and fashion shows for some of Europe's most venerable fashion houses including Valentino, John Galliano, Nina Ricci, and Dior, just to name a few. As an author and a television personality, J. won international acclaim in 2005 for his fashion flair after former protégé and supermodel Tyra Banks handpicked J. to co-star as a runway coach and judge on the popular reality series America's Next Top Model (ANTM). ​
Love Tomorrow is Tomorrowland's own platform that strives for positive impact on the society and environment. It does so by inspiring and activating communities and organisations through research, collaboration, innovation and communication. Love Tomorrow initiates concepts that contribute to reducing environmental impact and create awareness for circular models. Love Tomorrow coordinates The Recycle Club, AQUA, Water of Tomorrow and Camp2Camp; studies behaviour, sustainable developmentand environmental impact; creates value in terms of waste and water; innovates by use of grants, pilot projects and supporting start-ups. Since its foundation in 2012, Love Tomorrow has created added value through sustainable development initiatives with festival organisations, businesses, innovators, universities and governments.
Tomorrowland - Around the World 2021
Friday July 16 and Saturday July 17, 2021

Friday between 19:00 and 01:00, Saturday between 18:00 and 02:00 – adapted to all time zones

Tickets now available on tomorrowland.com: Festival Pass (€20.00), Festival Pass + On-Demand Pass (€25.00), Home Celebration Pass (€50.00)

An On-Demand Pass lets you relive all the performances from Sunday July 18 until Sunday August 1.

Special packages are available. More info can be found here.
The full timetable and line-up per stage can be found on tomorrowland.com

Open for people of all ages and places

Exclusively on tomorrowland.com
Info and updates: tomorrowland.com
Debby Wilmsen Press Coordinator & Spokeswoman, Tomorrowland
Jordy Van Overmeire PR Coordinator, Tomorrowland