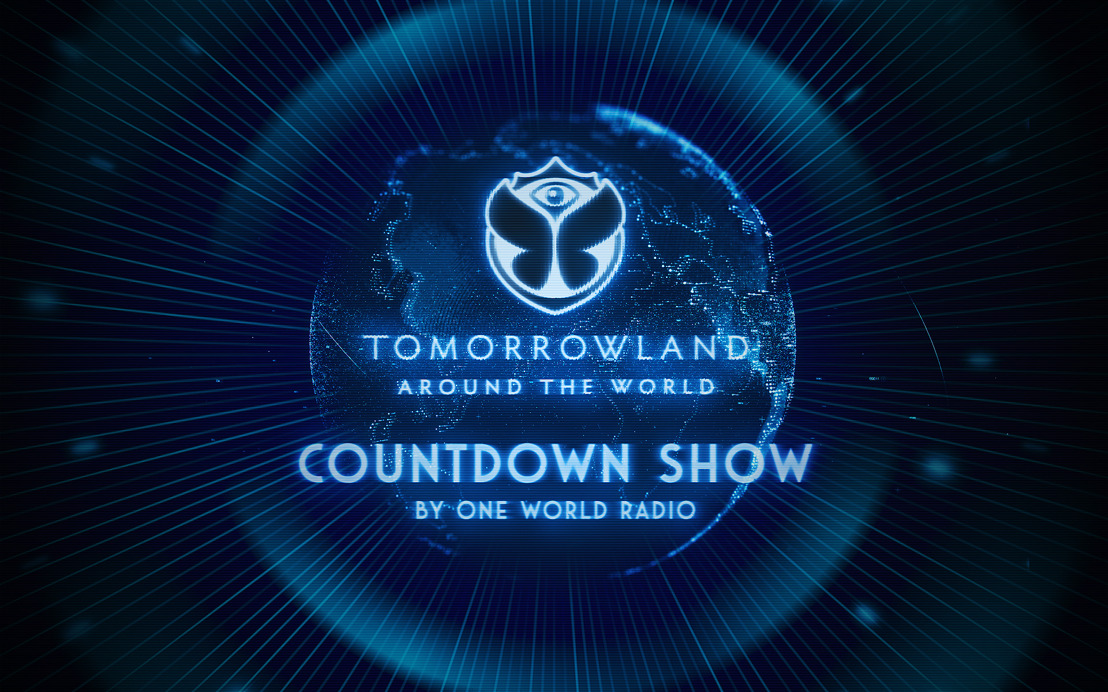 One World Radio presents: The Around the World Countdown Show with Armin van Buuren, Charlotte de Witte, Dash Berlin, Don Diablo, Kölsch, Lost Frequencies and Oliver Heldens
One more day until Tomorrowland Around the World, the digital festival
Friday, 24 July 2020 - It's only one more day until the start of Tomorrowland Around the World, the digital festival. Counting down to the official opening, One World Radio – Tomorrowland's digital radio & content platform – presents The Around the World Countdown Show. Today, 7 more headline artists – Armin van Buuren, Charlotte de Witte, Dash Berlin, Don Diablo, Kölsch, Lost Frequencies and Oliver Heldens – passed by the One World Radio studios to talk to hosts Adam K and NERVO, revealing a couple of world exclusive tracks and preparing the People of Tomorrow for a magical experience this weekend at Tomorrowland's new home Pāpiliōnem. All the artists have signed a very special Around the World globe – a true collector's item which can be won with the One World Radio app. Relive the entire show and get ready for an unseen adventure at Tomorrowland Around the World!
The Dutch 'King of Trance' Armin van Buuren reminisces about his previous Tomorrowland experiences and gives a taste of what's to come during his performance at the first ever digital edition: "I've done the first Tomorrowland in Belgium, the first one in Brazil, the first one in the United States, the first Tomorrowland Winter and now the first digital edition. It's a new experience and I'm actually nervous. It's probably the only gig I'm doing this summer and I have all these new tunes that I'd normally play in a lot of sets during the summer. Now it's only this one, so that's kind of scary. I have so much new music that I'll be premiering in my set tomorrow!"
Check out the segment with Armin van Buuren below.
Belgian DJ & producer and techno superstar Charlotte de Witte gives the People of Tomorrow a glimpse of her upcoming set at Tomorrowland Around the World: "My set is going to be a bit of a combination. I'll be playing some of my unreleased tracks, as well as my label's. I just want to create a good techno vibe for the people who are joining the digital experience."
Check out the segment with Charlotte de Witte below.
Future house DJ & producer Don Diablo talks about what the future has in store for him: "Next for me personally is a completely different show and way of performing that I've never done before. I'm a bit scared about that, but I want to come back as Don Diablo 2.0 and I've been working on that for a long time. I've been flexing some of my writing muscles, working on a couple of books actually. I've been figuring out what else you can do as a creative. I've got a couple of new clothing lines, diverting into new styles and ideas. I'm working on some really exciting projects, same goes for film – this time I had the time to direct my last music video and it brought back so much joy and love. Everything I do has a lot more me in it." Don Diablo also reveals a bit more about the books he's working on: "One is a children's book, another one is sort of a motivational book, while I'm also writing a kind of distorted autobiography. I want to give the best I have in me and raise the bar."
Check out the segment with Don Diablo below.
The young Belgian prodigy Lost Frequencies is very excited about the weekend: "I can assure you this is going to be next level! Imagine one of your favourite video games mixed with Tomorrowland, a new world without any boundaries. My performance will include only Lost Frequencies music: a lot of new music and unreleased remixes, some classics and a couple of classics that I remixed."
Check out the segment with Lost Frequencies below.
The Danish superstar DJ & producer Kölsch tells the world about his brand-new upcoming album and future music: "My new album 'Now Here Nowhere' is coming out in September. Lately I've been just getting back in the studio making tons of music. I'm always trying to expand and evolve artistically, embracing jazz and classical music. At Tomorrowland Around the World I'll be playing only Kölsch tracks: a lot of exclusives from the new album and some tracks of which I'm not sure if I'll ever put them out – just for the People of Tomorrow."
Check out the segment with Kölsch below.
Tickets for Tomorrowland Around the World are now available here.
Tomorrowland Around the World, the digital festival
Saturday July 25 and Sunday July 26, 2020.
Between 16h00–01h00 CEST.
Festival visitors will be able to navigate easily through Pāpiliōnem with a PC, laptop, smartphone or tablet – you don't need special VR goggles – and explore the entire festival site with all the different stages and points of interest in an interactive way together with friends.
'Time-zone-friendly' for visitors from Asia and North and South America.
Open for people of all ages and places.
Accessible exclusively on tomorrowland.com.
Day ticket costs €12.50.
Weekend ticket costs €20.00 and includes a week of video-on-demand content to relive the entire experience.
Info and updates: tomorrowland.com