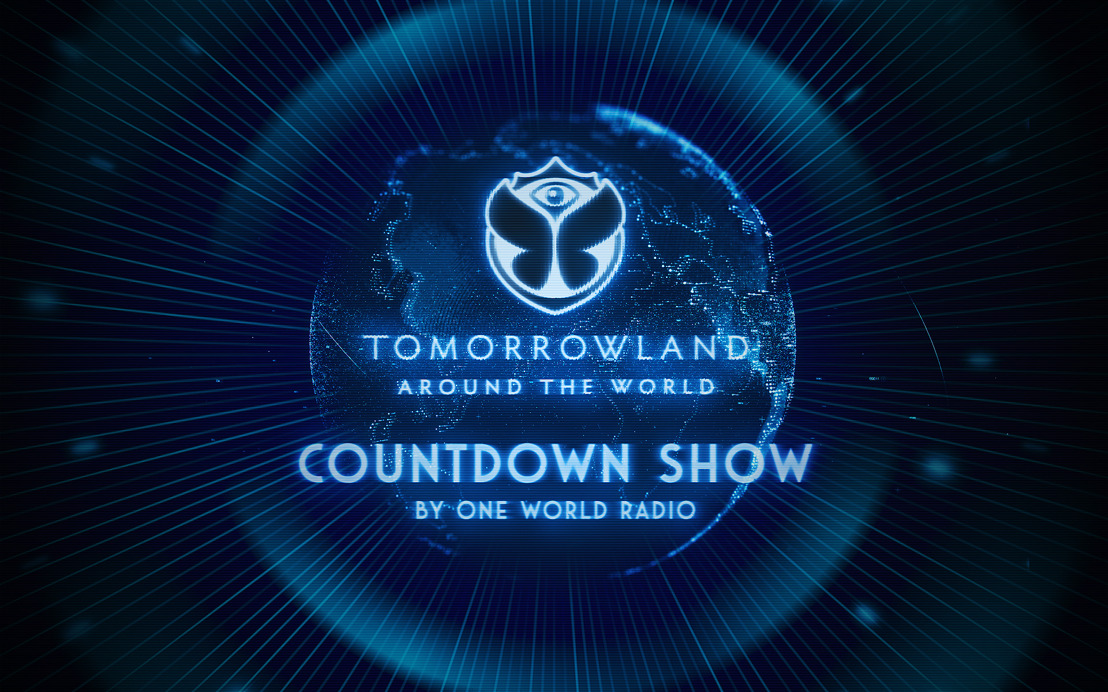 One World Radio presents: The Around the World Countdown Show with Afrojack, Bassjackers, Claptone, David Guetta, Dimitri Vegas & Like Mike, Paul Kalkbrenner and Sunnery James & Ryan Marciano
Two days till Tomorrowland Around the World, the digital festival
Thursday, 23 July 2020 - It's only two more days until the start of Tomorrowland Around the World, the digital festival. Counting down to the official opening, One World Radio – Tomorrowland's digital radio & content platform – presents The Around the World Countdown Show. Today, 7 headline artists – Afrojack, Bassjackers, Claptone, David Guetta, Dimitri Vegas & Like Mike, Paul Kalkbrenner and Sunnery James & Ryan Marciano – passed by the One World Radio studios to talk to hosts Adam K and NERVO, revealing a couple of world exclusive tracks and preparing the People of Tomorrow for a magical experience this weekend at Tomorrowland's new home Pāpiliōnem. Tomorrow, 7 more of the biggest artists will come by the studio, and all of them will sign a very special Around the World globe – a true collector's item which can be won with the One World Radio app. Watch the entire show below and tune in tomorrow for part 2 at 16:00 CEST on Facebook, YouTube and Twitch.
Tomorrowland residents Dimitri Vegas & Like Mike have huge news to share with the People of Tomorrow: "This weekend at Tomorrowland Around the World, we're releasing our brand-new track with Regard. It took ages to get it cleared, but we finally got Beyoncé's permission. We have been playing with the idea for a long time and I think we have found something that is pretty unique style wise, combining all the spectrums in between, and especially to get the permission to actually do it. Normally, it's always a no if you want to do something with the vocals of Beyoncé or Destiny's Child. It took a while, but we got it done!"
Check out the segment with Dimitri Vegas & Like Mike below.
French legend David Guetta dives deeper into the birth of Future Rave and Jack Back and the music he has made over the past months: "At some point, I got to the top of my success and it became more and more difficult to experiment. There was a point when I was so tired of this, so I did a full year where I was just doing Jack Back and the Future Rave project with MORTEN. This gave me a lot of happiness and I wasn't trying to make records to get on the radio. I really was just having fun and making darker music. Then of course the virus happened with a lot of terrible news and it made me feel like making some David Guetta records again. I want to make people happy; I don't want to make some dark experimental beats right now. I want to inspire joy; this is what people need now. In the last three months, I've worked harder than ever on happy tunes as David Guetta." Guetta also talks about his exclusive set during Tomorrowland Around the World: "It's not even this type of music. It's really different."
Check out the segment with David Guetta below.
Dutch Grammy Award-winning DJ and producer Afrojack dropped some really exciting news about his techno-inspired alias Kapuchon: "The label is set up, the logo is there and the first releases are finally getting planned. This summer the music is coming out, I'm really excited!"
Check out the segment with Afrojack below.
Techno superstar Paul Kalkbrenner gives the People of Tomorrow a glimpse of his upcoming performance at Tomorrowland Around the World where he will be world premiering his brand new exclusive single: "I've never seen something like this before. My set has to be perfect. Usually, I'm not that nervous before a show, it's really exciting. I'll be playing a mix of classics and new music, as well as my brand new single 'Parachute', which I'll be playing for the very first time."
Check out the segment with Paul Kalkbrenner below.
Dynamic Dutch duo Sunnery James & Ryan Marciano picked one of their soon to be released tracks to get the festival visitors excited for their Daybreak Sessions performance on Sunday: "We've been experimenting with a lot of new sounds, melodies and vocalsThe Around the World Countdown Show - 1 over the past months. This track is called 'Let's Play' and it's actually Sunnery's own vocal on it. We've been recording his vocals for years and now we finally did it. This track is going to be released soon!"
Check out the segment with Sunnery James & Ryan Marciano below.
Tickets for Tomorrowland Around the World are now available here.
Tomorrowland Around the World, the digital festival
Saturday July 25 and Sunday July 26, 2020.
Between 16h00–01h00 CEST.
Festival visitors will be able to navigate easily through Pāpiliōnem with a PC, laptop, smartphone or tablet – you don't need special VR goggles – and explore the entire festival site with all the different stages and points of interest in an interactive way together with friends.
'Time-zone-friendly' for visitors from Asia and North and South America.
Open for people of all ages and places.
Accessible exclusively on tomorrowland.com.
Day ticket costs €12.50.
Weekend ticket costs €20.00 and includes a week of video-on-demand content to relive the entire experience.
Info and updates: tomorrowland.com